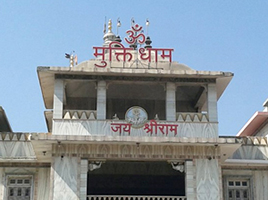 Muktidham is the pink marble temple, situated about 9.9 kms. away from the Nasik town. This temple depicts all important places of pilgrimage in India. All deities are prepared according to the size of the original deities from the respective holy places. These deities have been duly sanctified by sending them to the original pilgrim centres.
Panchvati is situated about 2 kms away from the Nasik town. The name 'Panchvati' is derived from the words Panch which means five and Vati which means banyan tree. Sita Gupha is situated nearby where Sita, had once taken refuge.
Ramkund
Kalaram
Goraram
Seeta Guha
Kapileshwara Mandir
Shiv Mandir
Lamba Hanuman
Triveni Sangam (Aruna, Varuna, Godavari)
Godavari Ghat
Godavari Tirth
Note: Privet Guide & Auto Riksha are available in Panchavati Area
Trambakeshwar (Trimbakeshwar) is an ancient Hindu temple in the town of Trimbak, in the Nashik District of Maharashtra, India, 28 km from the city of Nashik. It is dedicated to Lord Shiva and is one of the twelve Jyotirlingaas. ( Temple Timing 5.30 Am - 9.00 PM ) It is located at the source of the Godavari River, the longest river in peninsular India. The Godavari River, which is considered sacred within Hinduism, originates from Bramhagiri mountains and meets the sea near Rajahmudry. Kushavarta, a kund is considered the symbolic origin of the river Godavari, and revered by Hindus as a sacred bathing place.